Eli tonne olis kiva saada hacklab.fi -edustusta mutta Helsingissä on kädet täynnä remppaa ja kaikkea muuta että kuvion organisointi ei nyt vaan mitenkään onnistu meiltä.
Mainitun reaktorisimun (ja esim ison ledimatriisin) voin toimittaa Helsingin Läbille ennen kuin pakenen maasta (se on normaalisti arkistoitu Kirkkonummelle) muu messukama löytyy helsingin läbiltä vakiona.
Alla dumppi oleellisista keskusteluista aiheeseen liittyen joita on jo käyty worldcon-organisaation kanssa.
---
2017-04-03 (rambo -> worldcon ppl)
On 23/03/2017 11.57, Vanessa Sjögren wrote:
Hi Otto!

Vanessa here getting in touch! Feel free to let me know what all you'd
need in terms of space and other things.
Hi, sorry we've been crazy busy so this has taken a while.
would love to have the Hacklab involved, your stuff sounds really cool. I
will let Vanessa take over for talking about details of display
space/needs.

Do you have people who would be willing to run demos or workshops? We're
hoping to have a strong craft theme with lots of things to try, and while
we are well covered for more traditional crafts, it would be fantastic to
be able to include simple electronics projects, for instance. We can either
help with costs of materials or charge attendees a fee, so no need for the
Hacklab to pay the bill. I've also cc:ed Elina, who is running our craft
corner.
We should be able to do some entry-level workshops on Arduino and
electronics in general (ie. how to do add light & sound effects to your
costume/whatnot).
The Arduino / basic electronics workshops would be 10ppl max (per
workshop, one workshop per day and not every day [running those
workshops is a lot of work]), bring your own laptop. I think the
Arduino-kit we used in the last Arduino-courses was 45-50EUR.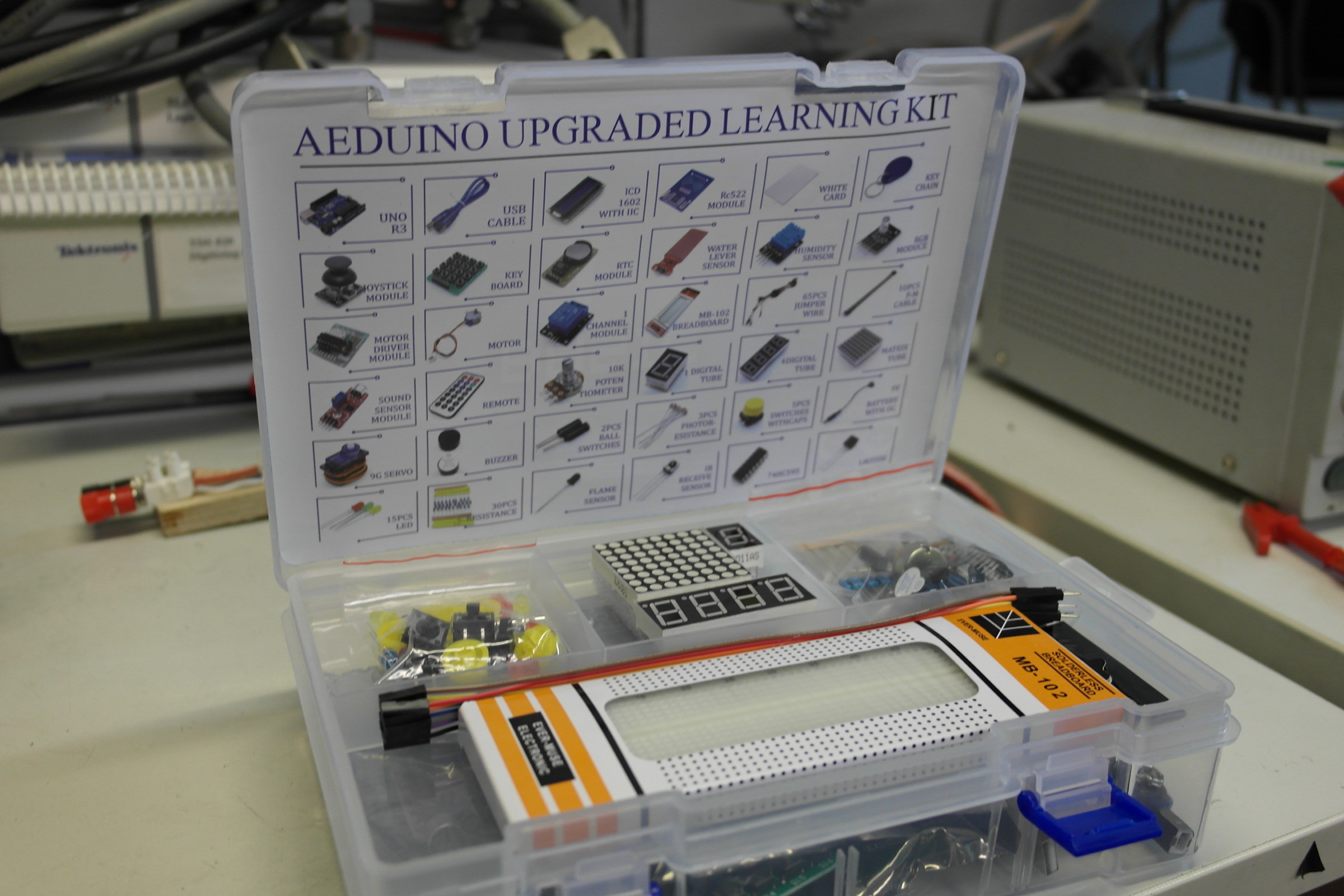 For the workshop we'd need some sort of conference/classroom separate
from the display stand.
Displays are going to be in the members-only part of the halls, but
displayers get a displayer pass, which lets you into the Exhibits halls and
food/social areas for free, and can be upgraded to a full membership for a
discount if they want to go and see the main programme too. I know you
might need a lot of passes, especially if you're bringing in people to run
demos/workshops too, that's not a problem.
Ok, great.
Other things we're already planning which might be relevant to your
planning too: we hope to have a small 3d-printing lounge (and when this is
a bit more firm then we can put you in touch to talk about whether bringing
your own printers is sensible or whether you could use the ones already
coming, or run a workshop with them, or whatever).
Ok, if there's already 3D-printing lounge then we'll probably only bring
our own if we think we're going to need it for something ourself (or
someone really wants to show off their build
We're also getting

people who are running a blacksmithing workshop and negotiations are
underway for where outside that will happen.
Coolness!
It may turn out to be possible

to use the same space for e.g. metalworking demos, or other messy things.
Ok, will have to think about that, maybe if we do some glass-fiber-resin
workshop-ish -thing, ref:
Very excited and dying to have a go on Chernobyl
That one alone takes about 3x6m of space, and quite a bit of electricity
(but messukeskus has plenty of that, we just need to get a 16A 3-phase
run the location)
As for general hacklab.fi display stand -thing, maybe 10x4m or
something, lot's of tables to have stuff on display and to work on some
projects of our own (or help with quick repairs or something, at
Assembly for example our soldering stations are quite regularly used by
the AV-team
/Rambo
---
2017-06-28 (clare.boothby -> hacklab ppl)
I am happy for Vanessa to be lead contact.
The current situation is, we would love to have Hacklab come to Worldcon. I'm particularly keen on the Chernobyl simulator but we can make space to display other things too. I don't know what these things might be though. We can easily provide power, chairs, tables, display boards. We would be delighted if anyone wanted to give a talk about their display, but it's up to them.
I am talking to Facilities about whether things can be stored between conventions and will let you know as soon as I get an answer.
We would also love it if Hacklab people could run us some workshops. We will have a craft corner with power, tables, chairs, plastic sheeting, ironing board, sewing machine, and some basic craft supplies (including paper, old clothes, drawing implements, glue, scissors, that sort of thing). This will be set up so that at least part of it can be used for teaching workshops. We probably cannot afford lots of extra supplies (but it doesn't hurt to ask if there's something particular/cheap you have in mind) and we can't do anything too messy/dangerous. But we'd be very happy to have you charge for workshops if you wanted to run ones which cost money for supplies - (e.g. I think an arduino workshop was mentioned? I might even come and do that

So I suggest:
Vanessa will be point coordinator
I will keep chasing about storage
Elina is in charge of the crafts area schedule so will need to be kept in the loop
Otto, could you get the Hacklab people to compile a list of:
(1) displays they could potentially bring, and for each one any constraints/things they need (e.g. noisy, needs power, needs supervision)
(2) workshops they could potentially run, and for each one any constraints/things they need (e.g. needs a soldering station, would cost 50E/participant)
In exchange, we can offer a basically unlimited number of Exhibits passes, which give a discount on full memberships. I can also ask the chairs whether we can promise some free day passes too, especially if Hacklab people are running workshops for us, if you think that would help make the arrangement more amicable.
Thanks,
Clare
On Tue, Jun 27, 2017 at 10:37 AM, Vanessa Sjögren vanessa.sjogren@worldcon.fi wrote:
Hi!

Can we agree on who will take the ball here and handle things from here on out?

I think a big part of the problem has been that a lot of people have been talking to them without there being a clear division of who is doing what. I'd be happy to "run point" as the Display Coordinator, but I'd like confirmation that I should and it would be vital to cc or forward me as well, if someone else talks to them or they send emails to someone.

Clare, since you're already trying to get answers from Messukeskus re:storage between events, it's probably best you keep at it. :)

Best,

Vanessa Sjögren

Display Area Head, Worldcon 75

PLEASE REPLY ALL!

On Tue, Jun 27, 2017 at 10:58 AM, Otto J. Makela <otto.makela@worldcon.fi> wrote:

    The Hacklab people have approached me and asked what the current situation is?

    They are willing to participate, but would like to have written confirmation
    and some kind of a time table for what Worldcon wants from them, and vice
    versa, how Worldcon will help them in doing those things.

    Could this information please quickly be made available?

    --
    W   W  OOO  RRRR  L     DDDD   CCCC  OOO  NN  N 77777 55555       Worldcon 75
    W   W O   O R   R L     D   D C     O   O N N N   77  55    Helsinki, Finland
    W W W O   O RRRR  L     D   D C     O   O N  NN  77     555     2017-08-09/13
    WW WW  OOO  R   R LLLLL DDDD   CCCC  OOO  N   N 77    5555    www.worldcon.fi

---
Mailien jakelu:
To: vanessa.sjogren@worldcon.fi
Cc: exhibits@worldcon.fi, displays@worldcon.fi, elina.koutonen@worldcon.fi, 
clare.boothby@worldcon.fi, hallitus@helsinki.hacklab.fi, otto.makela@worldcon.fi